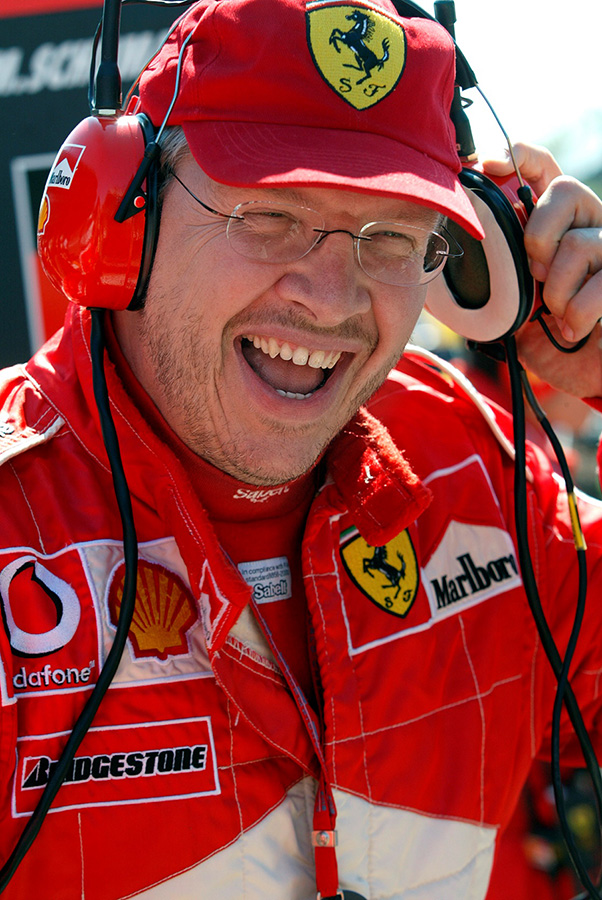 Our latest Honorary member of the F1 Grand Prix Drivers Club is multi-talented Ross Brawn whose career path in motor racing has been remarkable.
Ross is a Lancashire lad whose father then moved to Reading where Ross was brought up and schooled.
When he left school he became a mechanical engineer in the nuclear energy field but his skills as a machinist led to him joining March in 1976.He was switched to the Formula 3 team as a mechanic before being recruited by Frank Williams in 1978 for his new Formula 1 team where he developed all the skills that were to lead to his success in motor racing.
On these foundations, he joined Haas and then Arrows where he developed his first grand prix car, the Arrows A10.
His move to Jaguar saw the development of their championship-winning XJR14 but he came back into Formula 1 with the Benetton team under Flavio Briatore.They were to win the World Championship two years in a row with Michael Schumacher then had even greater success with Schumacher in his nine years at Ferrari.
His move to Honda F1 was short-lived when Honda pulled out but Brawn was able with his partners to form Brawn GP, which was to win another World Championship with Jenson Button. At the end of the 2009 season, the team was bought out by Mercedes and he continued with Mercedes until 2013 when he left the team and announced his retirement from Formula 1.
He was recruited by the FIA and became Managing Director of Motor Sports and Technical Director of Formula 1 until he retired last month and has been made an honorary member of the Club.
Few people will deny that Ross Brawn has had a career in Formula 1 unmatched by any other single person and the Club are happy to welcome him as a member.