Welcome to the F1 Grand Prix Drivers Club Website
The F1 Grand Prix Drivers Club
Over the past couple of years, this site has been built up, principally by member Graham Gauld and his daughter, Larch.  In keeping with the club mission of preserving the heritage and spirit of Grand Prix racing, we provide on here much of the early history, including those great men, our Founders (the Fondateurs ) who had the vision to bring into being this great Club a little over sixty years ago.
From the memberships lists, under Our Members you will see that we have rarely had more than 100 active members, but our rolls include a number of very significant Honorary Members who have made major contributions to the sport.
We have been able to gradually feed in material from the extensive club archives, and we will continue to share more of these as time goes by. In addition, we welcome interesting contributions from enthusiasts, many of whom may have met our members in earlier times.  We will also attempt to answer questions about our history whenever possible, while at the same time respecting member's privacy.
Please dive into the sections entitled News and Articles, which will bring you up to date with the Club activities, such as a weekend at Riccione, which included a visit to the Toro Rosso factory, kindly hosted by Team Principal, Franz Tost. There is also much for the historians amongst you with features on interesting cars, drivers, and events.
On similar lines is Graham Gauld's Into the Gauld Mine, and indeed it is a little goldmine of fascinating stories accumulated by Graham during his very long career in motor racing.
I am well aware that there is a plethora of motor racing websites, some addictive and some not, but we would like to think that ours is really rather special  We have that unique history in the world of Formula One racing.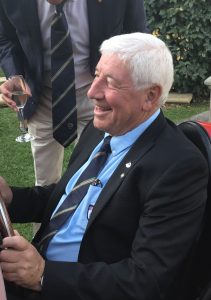 So click on and take a look on a regular basis, or even just occasionally. Do send us your comments and questions.
Happy  browsing,
With my best wishes,

Howden Ganley
President, F1-GPDC