Jean-Pierre Beltoise died in Senegal on Monday 5th January 2015. A motor sport legend has left us at the age of 77.
Everyone loved Jean-Pierre who dedicated part of his time to teaching road safety. He lost his first wife Eliane in a roadcar accident and later his brother Jean-Claude 500 meters from their family home. Everyone in the GPDC expresses their most sincere condolences to his family; to Jacqueline his dear blonde wife and Anthony and Julien his sons and all his friends.
Tuesday, January 06, 2015 – Jean-Pierre Beltoise was born in Boulogne-Billancourt on 26th April 1937. He was one of the rare drivers in the world who was as gifted on two wheels as on four. Jean-Pierre Beltoise achieved eight podium finishes in Grands Prix, the highlight being a superb victory in torrential rain at Monaco on May 14, 1972, the 17th and final Grand Prix win for the legendary BRM team.
Jean-Pierre started his career as a two-wheel driver and made his competition debut on motorbikes in the 50s. Beltoise was the perfect illustration of the all-rounders of the 60s and 70s able to race and win in many different categories. He suffered a serious accident on the Pau circuit in France driving through an oil leak that ended his racing career in hospital.
But Jean-Pierre did not give up racing and had always dreamed of racing on four wheels. From F3 he drove F2 and finally Jean-Pierre contested 86 F1 GPs between 1966 and 1974. He will be forever remembered for his heroic, outstanding victory in the rain-soaked 1972 Monaco Formula 1 Grand Prix, and in the fairy tale ending, he received the trophy from Grace de Monaco and Prince Rainier. It was an heroic race where Emerson Fittipaldi was on pole in the Lotus Ford and Emerson Fittipaldi and Jacky Ickx in the Ferrari started from the front row. But Jean-Pierre Belto ise also clocked the fastest lap of the race that day. Jean-Pierre also won two other non-championship F1 events.
Jean-Pierre will be mostly remembered in the legendary blue colors of the French Matra brand. Jean-Pierre became a Le Mans regular and raced in the event 14 times between 1963 and 1979 including eight outings at the wheel of aMatra, twice in an Inaltera and a Rene Bonnet and once in a Ligier and a Rondeau. Although he shone on several occasions in the Sarthe, Jean-Pierre Beltoise never won the race, and his best result was fourth place in 1969 with Piers Courage in aMatraMS 650. However, he won the Index of Performance on his maiden outing in 1963 at the wheel of a René Bonnet Aérodjet LM6 and the GTP category in 1976. Between 1966 and 1974 Beltoise was part of the famous Matra saga sharing the blue cars with drivers as quick and as well known as he was: Johnny Servoz-Gavin, his brother-in-law the legendary France F1 racer, François Cevert, Henri Pescarolo, Chris Amon and Jean-Pierre Jarier.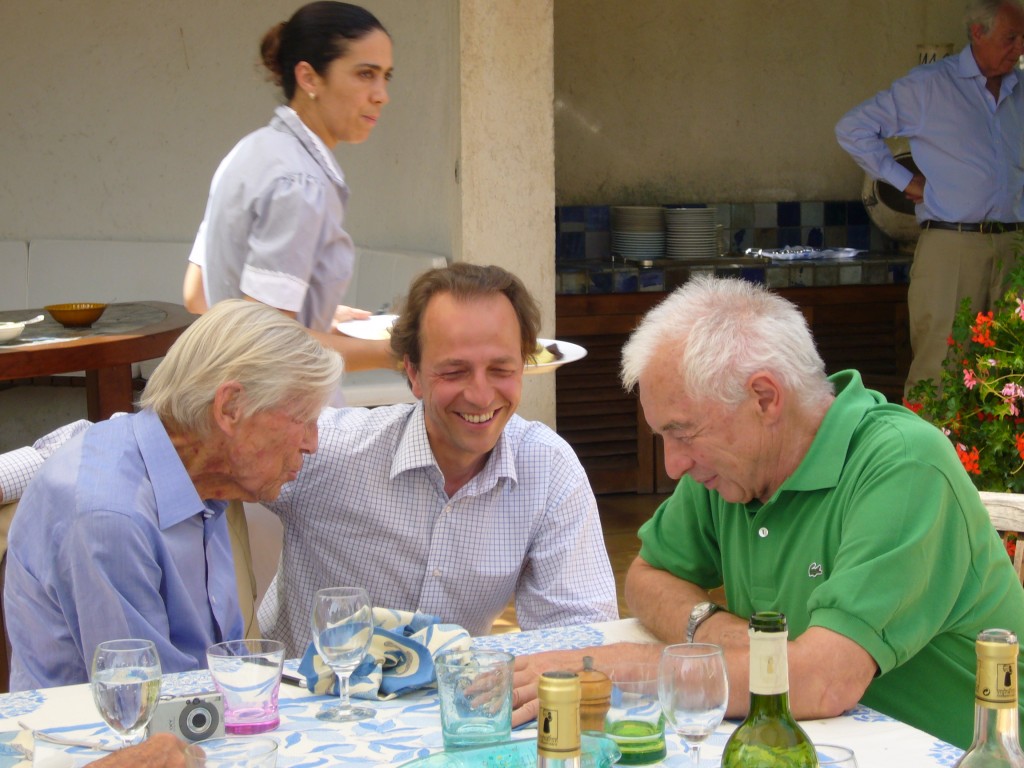 When the Matra adventure ended, Beltoise continued at Le Mans with Ligier who carried on flying the blue French colours. He then drove the Inalteras built by Jean Rondeau, and his last outing in the Sarthe was at the wheel of one of the prototypes built by the LeMans driver/constructor with Henri Pescarolo to whom he was very close. Beltoise loved sports prototype racing and even though he never won the biggest prize in endurance racing he racked up 12 victories in long-distance events.
Once Beltoise hung up his helmet he became a fervent defender of road safety and opened a school. He died on 5th January 2015 following a stroke caused by a hemorrhage which had plunged him into a coma since 2nd January 2015.
His two sons, Anthony and Julien, inherited his passion for motor sport, and Anthony has already raced in the Le Mans 24 Hours on three occasions. Jean-Pierre Beltoise, an eminent member of the Grand Prix Drivers Club is definitely one of the great names in French motor sport that has left us.
Jean-Pierre will forever be remembered as a flamboyant driver who was so proud to fly his country's colours in the 60s and 70s. He wrote his name in some of the most emblematic pages in the history of the Le Mans 24 Hours by giving his all at the wheel of Matras, Ligiers and a Rondeau. Jean-Pierre Beltoise was not only part of the legend of motor sport, but above all he also made a big contribution to writing it.
Jean-Pierre Beltoise's secrets told by his former boss and team mate
Saturday, January 17, 2015 – There were many motor sport personalities and media at the funeral of Jean-Pierre Beltoise on Monday, January 12 in the church of St. Vrain near Evry in Essonne, near to Paris. It was a small church very close to Jean-Pierre's favorite house. Philippe Monneret, the son of motorcycle champion Georges Monneret, Jean-Claude Andruet and Michel, Jean-Pierre's brother all spoke at Jean-Pierre Beltoise's funeral.
Also present among others were Jean Todt, FIA President, Jean-Pierre Jaussaud, Jean-Pierre Jarier, Jacques Laffite, Jean Pierre Jabouille, Henri Pescarolo, Jean Vinatier, Jean-Pierre Nicolas, Guy Fréquelin, Marie- Odile Desvignes, Philippe Alliot, Jean-Paul Belmondo, Hugues de Chaunac and many others. It was amazing they all managed to fit in the small church. After Jean-Pierre's funeral, the GPDC collected the testimony of two prominent members of the club: Sir Jackie Stewart's former team-mate and Claude Le Guézec, the former race Director at Matra and Aston Martin manager who had been put in charge by Matra's Jean-Luc Lagardere in February 1965. Alpine had its own structure. But it was Claude Le Guézec that Jean-Luc Lagardère had entrusted to begin the adventure in a room on the ground floor of a public house Boulogne: The white tiled kitchen of a former garage. Jean-Luc Lagardère made a quick decision and appointed two drivers: Jean-Pierre Beltoise and Eric Offenstadt a driver who used to race motorcycle with Jean-Pierre. Jean-Luc Lagardère quickly set the objectives of the new team and the future plans. However, he still was missing the car to succeed. Claude Le Guézec formed a team of five people dedicated to the task. At the end of the Matra adventure, the group had reached 170 staff.
Claude Le Guézec, the former boss of the team tells how Jean-Pierre was at Matra.
Q Do you remember the first laps of the car in the early days of the Matra adventure?
Of course, I do, yes. It was early June. And we managed to build a car around our two drivers (Jean-Pierre Beltoise and Eric Offenstadt) but they were very short. However, we built the car around them. This turned out to be a problem later when we wanted to use the same car as Henri Pescarolo was to drive but he was much taller than they were.

Q Was Jean-Pierre flexible to work with at Matra?
Yes, he fitted in the job very easily and very quickly. He also would listen to me. Especially as I had just won successively the Northern Highways rally in 1965 and the Snow and Ice rally in the Aston Martin DB4 GT leaving four Ferraris behind me. So I had a halo. We were all carried by the enthusiasm and desire to succeed. This was a good team and we had a good program. We were positive and wanted to get the job done.

Q But you worked cautiously and step-by-step?
Exactly. First we started with F3 and races in La Chatre with a lap record. ThenMonte Carlo, Clermont Ferrand, Reims and unfortunately no positive results. Then I thought about it and thought strategy over and gave tips to the drivers to overtake other competitors: narrower tires to gain speed and then aspiration behind a competitor to overtake and win the race in the final meters. An infallible technique that I experienced myself in rally. In all this, the boss, Jean-Luc Lagardère was disappointed and wanted to stop everything. We tried to understand the origin of the problems. We did and then everything changed at once: The Automobile Club of Argentina has officially invited us to participate in the Temporada, a four race event that took place in Buenos Aires,Mar del Plata, Cordoba and Buenos Aires. And then our team won on the four occasions. As a result Lagardere asked us with great enthusiasm to open the Matra F2 chapter. That was not easy because we were faced with Brabham's powerful Honda engines. There is no event we could win. Later it was F1 on our plate. Jean-Luc Lagardère dreamed of using an engine made in the company and that generated a lot of internal discussions. At the first race in Monaco, the car was equipped with huge exhaust pipes that made it sound very noisy. The audience loved the roar and the car was very popular… In turn Cosworth, which provided our engine, was doing their best, but there was not much tehy could achieve and the results were unfortunately not what we wanted.
Q And then what happened?
For the second race of the season at Zandvoort,I took a big decision and decided to base the strategy of the team on the weather forecast. It was a revolutionary approach for the time. My secret accomplices at the Schipol airport communicated to me from the airport weather fifteen minutes before the start of the race. On site at the track the winds were strong, sand was flying everywhere but the weather remained dry and all of our competitors cars would obviously take the start on dry tires. I had put the car on the grid without wheels. Schipol weather unit phoned me then and confirmed the imminent rain and we took the deecision to start on wet tires. Jean-Pierre Beltoise was not too happy. He feared that he would lose time at the start and drive more slowly than others. But in the end he trusted. In the first round it was raining and the track was already wet. All competitors had to stop to change tires. Jean-Pierre took the opportunity to take the lead. But destiny came and the car left the track and started sliding at the next corner and there was gravel everywhere. Fortunately he did not stall. Jean-Pierre brought the car back to the pits.We cleaned the engine and blew the gravel away and finished second. Without this error Jean-Pierre would have won.
Q How would you describe Beltoise as a racing driver?
He had a strong character. Not easy every day. He was possibly more flexible in the early days of his career. His personality blossomed in our family-like atmosphere and organization. Sometimes his successes and his entourage made him relatively uncontrollable. He was fast, very fast and smart. He had an excellent mechanical mind and would adapt very easily. But he sometimes "forgot" his appointment. For example on the day of a very important test for Matra on a karting circuit. We waited for Jean-Pierre who did not show up. In the end, I sat in the car for testing instead of our driver. I had already completed 5-6 laps before Jean -Pierre arrived. Another time at the release and launch of the film "Grand Prix" Matra had sent the car to the show-site. But the driver never joined the event.